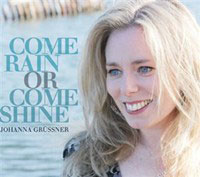 Come Rain Or Come Shine
Chris Mosey, All About Jazz / 2010-11-24
Her clear-as-a-bell vocals, assured phrasing and near perfect grasp of English put Johanna Grüssner right at the top of the current crop of Scandinavian female jazz singers. Come Rain Or Come Shine is her third solo album and best yet: a gently swinging, highly enjoyable mix of straight jazz and Brazilian samba, performed with supreme professionalism.
Grüssner, from the Finnish Åland islands, makes use of a broad musical palette. On previous albums she has sung both Swedish and Finnish traditional songs, interpreted songs featured in Finnish author Tove Jansson's Moomintroll children's stories and, with her two sisters Ella and Isabella, been a lynch pin of the folk group Daughters Of The Wolf.
Jazz, however, remains her principal bag. She's paid her dues with studies at the Berklee College of Music in Boston and Manhattan School of Music, and with sporadic gigging in New York City. On this release, she's accompanied by some of the most talented musicians in Stockholm, where she now lives. They include Ulf Karlsson, who helped her produce and whose work on both six and twelve-string guitars is impeccable.
Then there's the remarkable Ulf Johansson Werre, who most often plays trombone but is featured here to dazzlingly good effect on piano. He even engages in a Svante Thuresson-style duet with Grüssner on the Gershwin standard "How Long Has This Been Going On?," one of the album's stand-out tracks.
They're all good. Grüssner kicks off with a samba version of Juan Tizol's quirky "Caravan" before tackling the more middle-of-the-road Johnny Mercer/Harold Arlen ballad "Come Rain Or Come Shine." Then, on Buddy Johnson's "Save Your Love For Me," things start to loosen up. Grüssner's interpretation of the middle eight is masterly.
She saves the best for last: a heartfelt look at that achingly beautiful tango "Chiquilin De Bachin (Little Guy at Bachin's)" by Astor Piazzolla. There's a marvelous extended intro on quena, Andean flute, by Hector Bingert, a Uruguayan immigrant to Sweden. Then Grüssner extracts every ounce of feeling from surrealistic lyrics that include the wonderfully enigmatic command - one worthy of Frederico Garcia Lorca - to "shoot me with three roses."